Dear Friends,
You are amazing. So many of you have called and emailed, asking when you could drop-off donations at spcaLA. We'll start accepting in-kind donations on Monday, March 30th!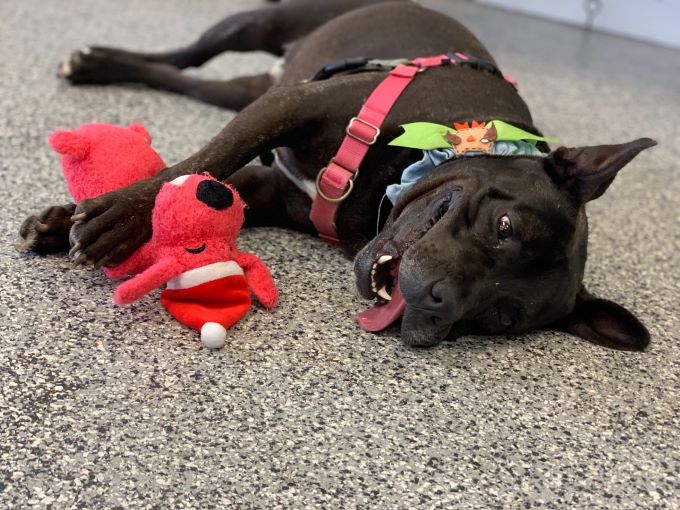 Melvin, a dog in spcaLA's care who will benefit from donations of food, as well as enrichment items like bully sticks and toys. Adoption available by appointment.
What we need:
Most Urgently: Bully sticks, Earth Animal sticks, brand-new blankets & towels, durable dog & cat toys, canned dog & puppy food
Also Needed: Kitten Replacement Milk (KMR) & bottles, canned and dry pet food (kitten/puppy/dog/cat), heating pads
spcaLA cannot accept donations of opened food or treats, nor can we accept used blankets, towels, or toys at this time.
When and where to drop-off:
9am to 10am on Mondays, Wednesdays, and Fridays, starting Monday, March 30th.
spcaLA South Bay Pet Adoption Center (12910 Yukon Ave, Hawthorne, CA 90250) OR spcaLA PD Pitchford Companion Animal Village & Education Center (7700 E Spring St, Long Beach, CA 90815) during drop-off hours.
How to drop-off:
Pull up to the donation drop-off pallet at South Bay or Long Beach (in front of the ADOPTIONS entrance at Long Beach).
Unload your donations directly onto the donation drop-off pallet, then return to your vehicle, and go back to being Safer at Home.
If there's another donor ahead of you, remain in your vehicle until they've completed their donation and safely returned to their vehicle.
If you'd like a receipt: take a photo of your donation and send it to funddevelopment@spcaLA.com.
For your safety, and that of our staff and the animals in our care, please do not linger, or exit your vehicle for a purpose other than dropping off a donation. We love your pets, but please keep them safely at home.
Prefer to donate funds? Online donations are best, but you can also mail a check or money order to spcaLA 5026 W Jefferson Blvd, Los Angeles, CA 90016.
More Ways to Donate Needed Items:
Give at the Marketplace. Purchase needed items from the spcaLA Marketplace at a 15% off discount, and we'll deliver them to the shelter. Email marekteplace@spcaLA.com to get started. You can also purchase food and supplies for your pets by appointment.
Use Amazon or another delivery service to send food, litter, treats, and toys to spcaLA Donations, 7700 E Spring St, Long Beach, CA 90815.
Please, take care of yourself, and each other.
Thank you,

Madeline Bernstein
President, spcaLA
Stay in step with animal welfare issues, read my blog or order my book.
Click here to view my special video message.
P.S. At the moment, spcaLA is closed to the public. Staff continue to care for shelter pets. Visit spcaLA.com/covid19 for information on services available by appointment.

---
DEDICATED TO THE PREVENTION OF CRUELTY TO ANIMALS SINCE 1877

ABOUT US | DONATE



© spcaLA. All rights reserved. spcaLA is a 501(c)(3) nonprofit.
Donations are tax-deductible to the fullest extent permitted by law.
Tax ID 95-1738153. Unsubscribe